Local Experts
Family-Owned

Heat pumps are an essential part of your heating and cooling system, and are responsible for the transfer of both warm and cool air. If your heat pump breaks, it can often mean the difference in the comfort of your home.
When your heat pump is in need of repair, 128 Plumbing, Heating, Cooling & Electric is here for you. We provide around the clock services, and as soon as you give us a call, we will send a technician out to diagnose and repair the heat pump.
OUR KEEP IT COZY AGREEMENT
At 128 Plumbing, Heating, Cooling & Electric, we guarantee all of our work. You and your family deserve comfort, safety, and 100% satisfaction on every job. Rest assured we provide you with top quality work from the finest technicians in the area.
GET THE PREMIUM PLAN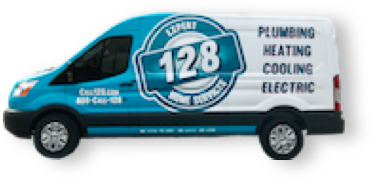 In order to gain an understanding of how we can best help you, a technician will ask you a few simple questions over the phone.
What We Will Want to Know
What type of heat pump do you have?
Does there seem to be a problem with the ductwork?
Is the condenser working properly?
How is the thermostat working?
When do you have time to meet?
What You Can Expect From Us
24 hour emergency services
100% customer satisfaction guaranteed
Phones answered by our own staff 24/7
We will treat your home like our own
Clean uniforms, booties, and drop cloths
Trained, licensed, insured, and skilled technicians
Immediate Heating Services!
If you live in a particularly cold climate, and are looking to supplement the heat in your house, a heat pump is a great option. For more information about installing a heat pump, please give us a call. Any of our technicians would be happy to consult with you.