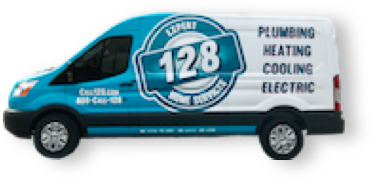 YOUR LOCAL 5-STAR COMPANY
How Can We Help?
Let Us Reach Out To You.
CAREERS
We're Hiring
Join our team! We're always looking to grow our incredible team, from the field to our administrative support. If you are a plumber, electrician, HVAC technician, drain technician or just looking for an outstanding opportunity in Eastern MA, check out our positions available or email careers@call128.com.
LEARN MORE
Helpful Tips From Our Experts
Andover
Arlington
Bedford
Belmont
Beverly
Billerica
Boston
Boxford
Burlington
Cambridge
Chelmsford
Concord
Danvers
Essex

Georgetown
Gloucester
Groveland
Hamilton
Haverhill
Ipswich
Lexington
Lynnfield
Malden
Manchester-by-the-sea
Marblehead
Medford
Melrose
Methuen

Middleton
Newbury
Newburyport
Newton
North Andover
North Reading
Peabody
Reading
Rockport
Rowley
Salem
Salisbury
Saugus
Somerville

Stoneham
Swampscott
Tewksbury
Topsfield
Wakefield
Waltham
Wellesley
Wenham
West Newbury
Wilmington
Winchester
Woburn

We're A Proud Heat Pump Installer of Mass Save
We've helped thousands of homeowners learn about Mass Save financing and rebates. Call or message us now to learn about the process.
Our Goal Is To Deliver A 5-Star Experience
Review Us On
We had a terrific experience with Kenny. I called and a day later, he was at my house providing an estimate on replacing a water heater that was on its last leg. He was professional, knowledgeable and friendly. He walked me through options and his recommendation and provided details on price, work that would be completed and duration. He was able to get us scheduled quickly to ensure we do not have any issues during the holidays. Thanks very much Kenny and 128 Plumbing!

Scott Zalvan
My kitchen fluorescent ballast finally bit the dust after 38 years, so I called 128 to see if they could replace it with an LED fixture instead. They said yes and set up an appointment. Dan and Chris arrived on time, took a look and said no problem. I also asked if they could replace the one over the sink as that was pretty old too and on its way out. They ran out to get the fixtures and had them installed in no time. Friendly, professional and efficient. Very happy with what they did. I won't hesitate to call 128 if I need work done again

Coasterdude02149
Wayne and his crew(associates) could not have been more professional and cordial in their dealings with my wife and me. Each of the people who came into our home introduced himself to us and proceeded to perform his job in an efficient manner, The en to attire team worked as a finely tuned group, and we couldn't be more pleased. After the installation, Wayne explained the workings of the system to a fault, as we are the least technical people with regards with systems such as this. My wife and I were totally pleased with our experience and would recommend 128 to anyone.

James McCarthy
We had a great experience with Kenny. We called with some plumbing issues and 128 sent Kenny to our house. He was extremely knowledgeable and answered all our questions in a way we could easily understand. The quote he provided us was very fair, honest and within our budget. We are so happy we found 128 plumbing!

Steve Sentementes
After signing up with 128 Plumbing's long term service contract, I had a very difficult, intermittent problem with my gas furnace. In fact, the unit only worked while 128 Plumbing was here, and stopped working when they left. I thought I was going crazy, but they did not. They kept working the issue until they found a subtle installation problem (someone else had installed the unit incorrectly). Now the furnace works better than it ever has. I even needed to turn down the thermostat from where it had been for years. They really impressed me, which is hard to do.

DC Seward