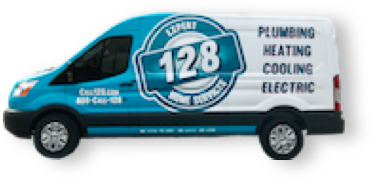 YOUR LOCAL 5-STAR COMPANY
How Can We Help?
Let Us Reach Out To You.
For many people, air conditioning is more than just a convenience.
With more people working at home, it's an essential part of productivity, which means that air conditioning maintenance is more important than ever.
At 128, we get it. We've been maintaining and servicing air conditioning systems for decades, and we know how important your AC is to your overall lifestyle.
But many people don't know much about what's involved in air conditioner maintenance, so let's fix that. What follows is a breakdown of the basic elements in your AC system and what you have to do to help maintain them.
We'll also show you how we can help if there are problems, and we'll close by giving you the ultimate solution to your air conditioning needs.
Your Home Air Conditioning Thermostat
With most AC systems, maintenance starts with the thermostat. If your air conditioning is going to work properly, your thermostat needs to be precisely calibrated so that the system can quickly reach whatever temperature setting you've selected.
For the most part, this is simple. Sometimes just inspecting and tightening the electrical connections leading to your thermostat can improve performance, and it can also make your system safer by eliminating electrical hazards.
Doing this also helps extend the lifespan of your AC system, and we can do it as part of a scheduled maintenance call if you'd prefer.
Lubricating Your Air Conditioning System
Your AC system has dozens of moving parts, so it's important to keep them lubricated. We'll do a quick check to see which parts need lubrication, and when we're done we'll test the system to verify the integrity of the work we've done. This alone can help you avoid breakdowns and costly repairs, so it's well worth the price of a maintenance visit.
Cleaning and Clearing Your Condensate Line
Another essential maintenance item is your condensate line. This line is used to drain condensation as the air in your system is cooled in your system, and if it's not drained periodically it can lead to clogs, leaks, and issues with moisture and wetness.
Clearing this drainage line also helps prevent mold and mildew buildup, and our technicians will check for cracks and repair any leaks that may lead to an issue.
They may even treat your system with an anti-algae product if the buildup is excessive, which can easily lead to an improvement in your system as a whole if it's been a while since you've had this done.
Air Conditioner Filters
Most people know how important air filters are when it comes to AC system performance, but that doesn't always mean they change them regularly.
It can be a DIY job, but it's always best to have it done by professionals, especially since our HVAC technicians have the expertise to spot issues with the filters and make any necessary recommendations to correct them and improve performance.
They also know where all the filters are located, which means they can check and replace them quickly if necessary. This is a tough task for many DIY types, largely because they're located in different places—e.g., along the length of the return ducts, in the walls, and even in ceilings.
Air Conditioner Coils and the Blower Motor
The blower motor is at the heart of an AC system, so it needs to be operating properly. That means measuring the appropriate voltages and airflow, then making sure the system is running at peak efficiency.
If you use us for AC maintenance, our technicians will inspect both the indoor coil and the condenser coil as part of this process. These devices also need to be operating at the proper voltages for your blower motor to do its job, and our techs have worked with all the major brands, so they know all the ins and outs of what's involved.
Refrigerant Maintenance
Your refrigerant is also part of the heart of your system, and there's a lot that goes into that, too. We'll make sure the fluid levels are right, and we'll also flush and drain the system and install whatever amount needs to be added to get them back to their proper levels.
Wiring and Safety
Your AC is part of your electrical system, which means that wiring and safety issues have to be part of the maintenance process as well.
We'll check out the wiring, the disconnect box, and all safety devices to make sure they're all working properly. We'll also look for burned contacts and test the electrical components of the system when we're done.
Don't Neglect the Ductwork
Inspecting the ductwork is an extremely important part of a service call. We'll make sure no debris's impeding or lowering airflow, and we'll also test the system for efficiency and energy loss.
External Air Conditioner Coils
Cleaning the filters will keep evaporator coils from accumulating dust, dirt, and debris, but these coils should still be inspected regularly. Dirt can reduce airflow and insulate the coil over time, and this in turn reduces the amount of heat it can absorb.
If you have central air with an external unit, we'll also check the area around the unit for foliage, leaves, or debris, then remove it to keep your AC working properly.
Coil Fins
These aluminum fins that sit on the side of your AC unit can easily be bent over time, and if that happens they can block airflow through the coil. If this has happened to you, our technicians will install a "fin comb" that will restore these fins to their original shape and condition.
Get Regular AC Maintenance
If you're not on a regular maintenance schedule, you should be. We'll help you set up a scheduled maintenance contract with guaranteed work, and techs who are always polite and professional.
We'll also recommend upgrades and procedures to upgrade system performance and energy efficiency. We'll always give you accurate estimates, a list of items that need to be replaced, and we'll prioritize any recommended upgrades.
To get your AC maintenance visit set up, you need to call us right away. You can reach us toll-free at (888) 419-4233, or you can also call us at (781) 670 3261.
In addition, you can go to 128Plumbing.com and start a live chat, and we have some great blogs and articles there to help educate you about your AC system, how it works, and how to handle any problems you may be having.
Ask about our System Maintenance Plans
At 128 Plumbing, Heating, Cooling & Electric, we guarantee all of our work. You and your family deserve comfort, safety, and 100% satisfaction on every job. Rest assured we provide you with top quality work from the finest technicians in the area.
BECOME A MEMEBER
CALL 128 SKILLS
Here is a quick list of the top cooling services we offer: