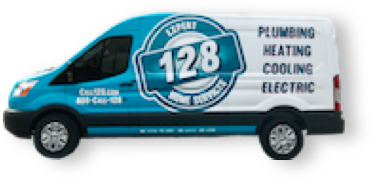 YOUR LOCAL 5-STAR COMPANY
How Can We Help?
Let Us Reach Out To You.
The best way to extend the longevity and efficiency of your A/C or cooling system is to schedule regular maintenance with a professional cooling technician at 128 Plumbing, Heating, Cooling & Electric.
We recommend an annual service check before those hot summer days.
When Is It Time To Call An Expert AC company for Service and Repair?
If you notice any issues with your AC cooling system, there is no time to waste, especially during the hotter months. AC issues can be complex, so you need to get the help of a professional AC service and repair technician.
We want you to stay cool throughout the summer, and that's why we make sure that your air conditioning / cooling system is working properly.
When Is It Time To Call An Expert:
When your AC is not turning on you should call an air conditioning expert immediately
When your AC is not blowing cold air it's time to get a technician's eyes on it
When your AC appears to be freezing up, an AC professional has experience in getting it back to working normally again
Call Our Experts — 24/7
In the event that you need service or repairs made to your A/C or cooling unit, we are here for you. Call us today to set up an appointment! We look forward to serving you.
Our Cooling Service and Repair Services
When we come to service or repair your cooling / air conditioning unit, we provide comprehensive services including:
Check thermostat settings
Lubricate all moving parts
Tighten all electrical connections
Check system controls
Monitor refrigerant levels
Clean evaporator, condenser, and coils
Adjust and clean blower levels
Check air filters
And more
Ask about our System Maintenance Plans
At 128 Plumbing, Heating, Cooling & Electric, we guarantee all of our work. You and your family deserve comfort, safety, and 100% satisfaction on every job. Rest assured we provide you with top quality work from the finest technicians in the area.
BECOME A MEMEBER
CALL 128 SKILLS
Here is a quick list of the top cooling services we offer: