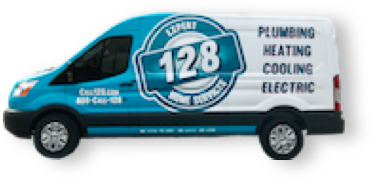 YOUR LOCAL 5-STAR COMPANY
How Can We Help?
Let Us Reach Out To You.
We Offer High Quality Trenchless Pipe Repair Services
Are you in need of pipe repair or inspection services, but worried about the costs and the hassle of excavation? If so, you don't need to worry any longer. At 128 Plumbing, Heating, Cooling & Electric, we offer top-notch trenchless pipe repair services.
What does this mean? It means instead of using expensive, traditional methods to repair pipes, we approach pipe repair with modern CIPP technology. Instead of digging up your lawn or your flower beds to access your pipes like many other companies do, we will use a technology to access and fix your pipes from the current pipe. This means we won't bring in an excavator to dig up your pipes. We will send one trained technician to your house to look at the insides of your pipe with a small camera. They will then fix the pipe from the inside out.
The best part for many customers is since we don't have to use an excavator or a team of contractors to fix your pipes, the costs are much more affordable. It's also important to know that using no dig pipe repair to fix your pipes is a much more durable option. The epoxy that we use to fix your pipes will harden, restore your pipe, keep out leaks, and keep even the oldest of pipes working for up to 50 years.
We pride ourselves on being able to fix the oldest of pipes or the worst of leaks. There is no job too small or too big for us, so please don't hesitate to call us. We would be happy to help you with any problem.
Why Cipp And Not Plumbing?
When you experience pipe and drain problems, your first instinct may be to call a plumber or a handyman. After all, aren't plumbers in charge of everything related to pipes and shouldn't handymen be able to tackle any problem?
While we do offer excellent plumbing services here at 128 Plumbing, Heating, Cooling & Electric, when you call us about a pipe or drain problem, we won't send a plumber. Instead we will send a certified CIPP technician.
The reason? A plumber is great when it comes to simple clogs or fixing water issues in your house. However, if there is a problem with the pipes including sewer pipes. There is little a plumber can do to actually fix the problem. Yes, they can treat the symptoms by clearing out the pipe, but they won't actually fix the broken pipe.
At 128 Plumbing, Heating, Cooling & Electric, when we hear you have a pipe problem, we will send a trained CIPP technician to actually look at your pipes. This means they will enter your pipes with a small camera and diagnose the exact problem. Once the technician knows what the problem is, they can quickly work to actually fix the problem. In other words, the technician will use CIPP technology to fix the pipe from the inside out.
CIPP will fix the problem and you won't have to keep calling a plumber over and over again to treat symptoms of the problem.
If you suspect you have problems with your pipes, don't wait for a disaster. Instead, give us a call here at 128 Plumbing, Heating, Cooling & Electric and we will send a technician to check it out. Then, we can create a plan to fix your pipes.
What Is Trenchless Pipe Repair?
If you've had neighbors or friends experience pipe problems, you may have seen a large team come in and dig up the pipe to replace it. This process is messy and expensive.
At 128, we pride ourselves on being versed in the latest in pipe repair technology. We want to give our customers the best service possible in the most affordable way. This is why we have opted for CIPP or trenchless pipe repair.
With trenchless pipe repair, you won't see an excavator. Instead, trenchless pipe repair uses a top-notch technology to enter the pipe from the inside and fix the problem.
Our technicians will use a reliner to enter through the pipe and rebuild the pipe from the inside out. First they will clean the pipe, inspect it, and then diagnose the problem. Then, they will take measurements and use an epoxy resin to pour in the liner. Next, a pipe liner is loaded into the launching machine and the pipe liner is inserted into the pipe through an inversion process that utilizes air pressure. This process turns the pipe liner material inside out which helps the resin bond with the original pipe. Then, the pipe is ready to dry which takes about 3 hours. After this time period, your pipes will be just as good as new.
When To Call About CIPP
One of the reasons we have opted to specialize in no dig pipe repair is because of the area where our business is located. Massachusetts is one of the older areas in the union and that means the pipes in the area are older. Additionally, this area is full of beautiful trees. While it's gorgeous, it also means an abundance of roots. Old pipes and roots are an equation for disaster over time.
With our years of experience, we have seen major pipe problems that stem from root intrusion or old pipes.
If you live in a particularly lush area or an older house and know you haven't had your pipes looked at or serviced, it's time to call 128. Also, if you experience frequent back ups or see leaks in your home or yard, then it may be due to a pipe problem or a root intrusion.
Don't call a plumber. Don't wait any longer. Instead, contact the experts at 128 and we will get out to your property and fix your pipes. You'll be impressed with how quick the process is and how well your pipes will work after the service.
What Type Of Repair Services Do You Offer?
Trenchless pipe repair is one phrase we use for all sorts of different services. For example, you may be experiencing a problem with your sewer lines, but we can use the same technology to treat both problems.
We have years of experience with pipe repair and know we can fix your problem. Additionally, we offer services for both commercial and residential properties. There is no pipe too big or too small or too simple or too complex for us to fix. When you call us, rest assured we will get the job done.
Here are some of the top services we offer:
Cured in Place Piping (CIPP)
Sewer Camera Inspection
Large Diameter CIPP
Commercial Roof Drain Lining
Sewer Replacement
Roof Drain Lining
Municipal Pipe Repair
And more!
Ask about our System Maintenance Plans
At 128 Plumbing, Heating, Cooling & Electric, we guarantee all of our work. You and your family deserve comfort, safety, and 100% satisfaction on every job. Rest assured we provide you with top quality work from the finest technicians in the area.
BECOME A MEMEBER
CALL 128 SKILLS
Here is a quick list of the top drain services we offer: