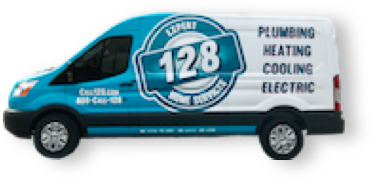 YOUR LOCAL 5-STAR COMPANY
How Can We Help?
Let Us Reach Out To You.
When it comes to your plumbing, you probably don't think all that much about your bath and kitchen fixtures.
You know they're essential for your plumbing to work properly, but once you've bought them and had them installed, there's a good chance you take them for granted.
When they stop working properly, or if you're having issues with your fixtures, you need fast, efficient service, and that's when you need to call 128 Plumbing.
Not to worry, though. At 128 Plumbing, we've been maintaining and repairing bath and kitchen fixtures for decades, and we've serviced just about every problem you can manage.
We like to share our knowledge, too, so here are some maintenance tips, along with a rundown of the most common problems and the fixes to get them working properly again.
Kitchen and Bathroom Fixture Basics
We'll start with some basic maintenance tips for your fixtures. They're very basic and simple, so most of what you need to do are about performing them regularly. As you do, make sure to pay attention to any potential issues that come up.
Before you start on those, though, spend a few minutes through the literature related to your fixtures. Some have specific cleaning products you'll need to use, and these can be essential if you want your fixtures to stay under warranty.
That's especially true if you have high-end fixtures. If you've paid to buy brand-name fixtures, the last thing you want to do is mar their appearance by cleaning them improperly. If you do need to take them apart, it's probably time to call 128 Plumbing to get help with whatever problem you're having. you need.
Dealing with Deposits: Use the Right Cleaning Products
So what are you looking for as you clean your fixtures? Deposits, mostly. In some areas, hard water with a high mineral content can leave unsightly lime deposits on your fixtures, which is why you need to do regular cleaning to prevent any buildup.
There are dozens of special cleaning products designed to eliminate these products, but you need to use the right ones spelled out by the warranty to keep the finish intact. These will be in the literature, so make sure you review them and buy accordingly rather than just grabbing something off the shelf.
Beyond Cleaning: The Aerator
Most people have no idea how important the aerator is when it comes to the health and proper functioning of your fixtures. Aerators mix air and water in a way that ensures proper pressure and flow through your fixtures, but they can accumulate the same kinds of mineral deposits that can mar the appearance of your fixtures.
Cleaning your aerator is simple, and the good news is that you don't have to do it very often. In many cases, once a year will do the trick, and it will fulfill the terms of the warranty, too.
If you are going to take on this job as a DIY task, make sure you do it properly. Aerators typically consist of the housing, a screen insert, and a rubber washer, so be sure to keep these parts in the proper order when you take your aerator apart.
Once you've done that, rinse them thoroughly. If you see hard water deposits you can soak the aerator components in vinegar, but if you encounter a part that's worn excessively or broken you should always replace them—aerators are fairly inexpensive and easy to replace.
Make sure you perform any other minor maintenance procedures, too. That means examining small components and accessories like springs and washer seats to make sure they're working properly, and replacing them if they're not.
As you go through all this, make sure you pay attention to the warranty. Warranties sometimes spell out maintenance procedures as well as appropriate cleaning products, so follow the maintenance directions and do them at the recommended intervals, too.
Common Faucet and Fixture Problems
As you go through these basic maintenance procedures, remember to call us if you encounter any difficulties. We know how to ask the right questions about whatever issues you encounter, and we'll tell you if you need a service call.
Ask about our System Maintenance Plans
At 128 Plumbing, Heating, Cooling & Electric, we guarantee all of our work. You and your family deserve comfort, safety, and 100% satisfaction on every job. Rest assured we provide you with top quality work from the finest technicians in the area.
BECOME A MEMEBER
CALL 128 SKILLS
Here is a quick list of the top plumbing services we offer: