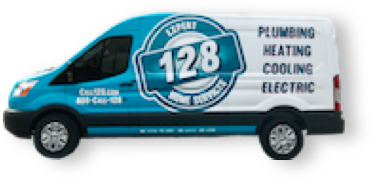 YOUR LOCAL 5-STAR COMPANY
How Can We Help?
Let Us Reach Out To You.
We take the drains in our home for granted.
We know they perform an essential function, of course, but our casual approach to what drains do quickly goes out the window until there's a problem.
While it's usually easy to fix and repair a drain that's not working, it's far easier to keep them running effectively. All you have to do is commit to doing a small amount of preventive maintenance, or you can make it even easier and simply call on 128Plumbing for whatever help you need when it comes to drain maintenance.
We perform tons of service calls so we can walk you through some basic maintenance tips, and tell you what we typically do when you call on us for help.
The Simplest Drain Maintenance Tip
When it comes to drain maintenance, there's one simple tip that will save you a lot of time and money. It frequently gets ignored or overlooked, but if you follow it religiously you'll be halfway home when it comes to always having healthy, functional drains.
Pay attention to what you put in your drain. Anything that can cause a clog is a serious no-no, whether it's cooking grease, coffee grounds, eggshells in your kitchen drain, or hair and debris that can accumulate in your shower drains.
Make sure the eggshells, cooking grease, and coffee grounds get safely disposed of somewhere else and do the same with the hair and debris once you eliminate them from your shower.
Also, don't dispose of unused medications in your drain. Even if these medications are liquid, they can leach into the groundwater, and this kind of disposal may actually be against the law in some places.
The Hot Water Tip
If you want to get a bit more proactive when it comes to protecting your drains, hot water is another solid tip that can go a long way.
Pour it down your kitchen drains and bathroom sinks on a regular basis to keep your drains clean and break up any clogs that may be forming. It's not a cure-all, but it is a great preventive, so make it a habit and your drains will thank you by continuing to work properly.
Strain Before You Drain
Nearly all drains come with strainers, and they're a great catch-all protective device. They do a lot of great work, and they also simplify the cleaning process when you go to work on your drain.
In addition, they keep you from having to touch all kinds of things you don't want to go near. They're simple to install if you don't already have them, and they're also well worth the minimal amount of time and effort it takes to put them in.
Be Careful With Drain Cleaners
Cleaning your drains is always a good idea, but not if you use the wrong cleaners. One of the most common adages about drain maintenance is that using vinegar and baking soda is a good idea as a preventive.
Don't believe it. Baking soda is abrasive, and over time it can damage your pipes. Stick to hot water as a preventive, and be careful what you buy when it comes to store-bought cleaners, too, as they can also cause more serious damage to your pipes.
Use the Right Plumbing Tools
If you are going to do some DIY drain maintenance, make sure you get the right tools. Any visit to a big box home store will lead you to an aisle full of supposedly-great solutions for drain maintenance, but they might not help you all that much.
The simple fact is that you really only need three, and they're all relatively inexpensive. The combination of a snake, an auger, and a cup plunger can handle nearly all of your DIY needs. Use cup plungers to tackle smaller clogs, then switch over to the augur and snakes when you're doing heavy-duty work.
As for the rest of the tools you'll see, keep going when you make your way through that aisle in the big box store. There's a tiny chance you might find the ultimate drain tool, but there's a much better chance that whatever you buy will be like—wait for it—pouring money down the drain.
Also, makes sure you don't exceed the capabilities of these three basic tools. If you use an augur or a snake and you're not solving the problem, it's time to call the pros at 128 Plumbing and let us figure out the problem and solve it for you.
What Happens During a 128 Plumbing Visit
You may be surprised by what we do at 128 Plumbing when you schedule us for service. Unless there's an obvious place to start—e.g. if it's been years since you actually cleaned your drains—the visit often starts with a video camera examination to see what's down in your pipes and what kind of condition they're in overall.
One of the benefits of doing this is that it helps us verify the integrity of our work. You'll get a video and photos of whatever the camera records, so you'll know exactly what's going on and what we're going to do, and you can use it for reference if any subsequent becomes necessary.
This also helps us prioritize our tasks. It gives us a better idea of what tools to use, and it tells us how long the cleaning is likely to take. Usually, it only takes an hour or two, but if we spot any other issues that will add to that timeline, we'll let you know right away.
The Home Hydro-jet Experience
During a typical visit, we'll probably also use a hydro-jetter, which is a plumbing device that can be inserted down your drains.
These devices use high-pressure water to clean your drains and blast loose any accumulated debris, and when we're done with that there's a great chance your drains will be clear and good to go.
Why Drain Maintenance is a Great Investment
There are many reasons to use us for your drain cleaning needs, but one of the best is the payoff. The expense of regular drain cleaning service sessions is exponentially cheaper than paying to fix a leak or replace pipes, not to mention the peace of mind you'll get from knowing the job was done right.
Time to Take Action and Call Us
Now that you know the benefits of drain maintenance and a drain cleaning visit, call us at (888) 419-4233, or you can use (781) 670-3261 to set things in motion. We'll answer your questions and schedule you for service.
You can also go to 128Plumbing.com and start a live chat, and we have some great blogs and articles there to help educate you about your drain system and plumbing.
Ask about our System Maintenance Plans
At 128 Plumbing, Heating, Cooling & Electric, we guarantee all of our work. You and your family deserve comfort, safety, and 100% satisfaction on every job. Rest assured we provide you with top quality work from the finest technicians in the area.
BECOME A MEMEBER
CALL 128 SKILLS
Here is a quick list of the top drain services we offer: