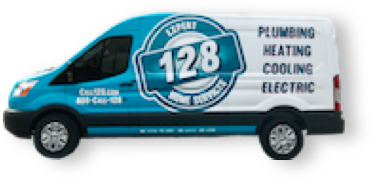 YOUR LOCAL 5-STAR COMPANY
How Can We Help?
Let Us Reach Out To You.
Few plumbing problems are more onerous than a clogged drain.
It can hinder the proper operation of the plumbing in your bathroom and kitchen, and if the clog develops into a blockage, the results can be disastrous.
Thankfully, it's a very solvable problem, and at 128 Plumbing we know the solutions and how to implement them.
We also know how to do regular drain cleaning, which can help keep your drains flowing free. We can set you up with a plan for scheduled drain cleaning, which will virtually guarantee that your drains will continue to flow freely for as long as you own your home.
But there's still a lot you need to know about your drains, drain cleaning, and how it all works. With that in mind, let's take a guided tour through your drains, see how they work, and outline what happens during a typical drain cleaning.
Drain Cleaning Choices and 128 Plumbing
The first thing you need to know about drain cleaning is that there are several ways to do it. At 128 Plumbing, our expert plumbers will tell you that the best way is manual, with a plunger, a snake, and hot water.
There are other solutions available, but they're not ideal. One common recommendation you'll see and hear is to mix baking soda and vinegar into a solution, then pour it down the drain.
The problem with this option is that baking soda is abrasive, so if you use it as your go-to fix you'll damage your pipes over time.
The same is true of chemical cleaners. These may seem like an easy fix, but they can cause damage that's as bad or worse than the ongoing wear and tear left by a baking soda and vinegar solution.
Smaller Sink Cleaning Options
If your sink is smaller—e.g., a bathroom sink—the drain cleaning procedures change slightly. Start by cleaning the stopper, the piece near the top of the drain that's used to manually block the drain.
This piece tends to clog easily with hair, sludge, and debris, so a simple cleaning can go a long way toward restoring normal water flow. If the problem is further back in the pipe, you can also use a filament-type device that's narrow enough to reach and break up small clogs.
If you've done these things and you're still having issues, it's time to call 128 Plumbing and schedule a drain cleaning visit. There are many benefits to doing this, so let's take a deeper dive into how it works, what we do, and how we'll address whatever issues you may have.
Drain Cleaning Services
If you decide to use a drain cleaning service, 128 Plumbing is the ideal choice to have your drains serviced. We've been cleaning drains in towns all around Massachusetts for years, so we can get the job done quickly and solve any problems you may have.
To start, our team will ask you some basic questions about your problem, the history of your home, and your plumbing system. This will give us some clues about what might be causing your problem, and it can be a great time saver.
After that, we'll go through a standard series of diagnostic procedures. These will include evaluating your fixtures, then checking out the location of the problem. Doing this will tell us more about the extent of the issues you're having and also help us know what tools we'll need to solve them.
Once we're done with that, we'll clear out an access area so we can do the work, then drop down drop cloths to protect your home. That will set the stage for us to use one of our top-notch drain cleaning machines, which will break up and eliminate the clog.
If there are issues the drain cleaning machine isn't solving, we'll take a step back and look at your plumbing system as a whole. That typically includes a thorough examination of your plumbing system with video cameras, which will allow us to further isolate the problem.
If the problem is downstream and further back in your plumbing, we may use a tool called a hydro-jet. The pressurized water from this device will blast loose any debris that has accumulated, and the combination of high-pressure water and a subsequent drain cleaning should solve all your problems.
If it doesn't, we'll consider other solutions. Sometimes a clog in a sewer pipe can cause a sink to back up, and if that's the case our cameras allow us to see what's happening, then use the appropriate tools to deal with the problem. We have extensive experience clearing sewer pipes, too, so there's no need to worry if they're the cause of the problem.
Once we've got everything fixed, we'll retest the fixtures and pipes to ensure they're still performing well. After that, we'll often do another camera inspection to ensure you're ready. We guarantee all our services, even if they involve complicated procedures.
So how long will it take? Typically we need an hour or two to do a thorough drain cleaning, but if it's going to take longer than that we'll let you know right away. You can expect our team members to be polite, professional, and responsible, and we'll treat your home like it was our own.
Regular Drain Cleaning and Repair
One of the best things you can do after a drain cleaning visit is to sign on with us for regular visits. There are several advantages to this. One is that we'll know your pipes and plumbing well enough to spot any recurring problems well before they become emergencies.
You'll also get to know us and our people. Our plumbers are among the best in the industry—they're polite and professional, with unmatched expertise. They'll give you accurate estimates and timelines for all procedures, along with any necessary information about what you'll need to do to keep the problem from recurring.
To get started on the path to effective drain cleaning, though, you have to take the next step, so call us at (888) 419-4233, or you can use (781) 670-3261. We'll answer your questions and schedule you for service, then show up and get the job done.
You can also go to 128Plumbing.com and start a live chat, and we have some great blogs and articles there to help you understand your drains, how they work and what we can do to help get them clean and working properly.
Ask about our System Maintenance Plans
At 128 Plumbing, Heating, Cooling & Electric, we guarantee all of our work. You and your family deserve comfort, safety, and 100% satisfaction on every job. Rest assured we provide you with top quality work from the finest technicians in the area.
BECOME A MEMEBER
CALL 128 SKILLS
Here is a quick list of the top drain services we offer: