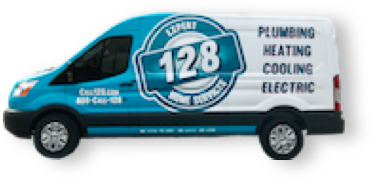 YOUR LOCAL 5-STAR COMPANY
How Can We Help?
Let Us Reach Out To You.
If you need service, repair, maintenance, or installation of a new boiler, 128 Plumbing, Heating, Cooling & Electric is here for you.
As your local heating experts, we have generations of experience with all brands and types of boilers, and feel confident in our abilities to help solve your problem.
No matter what type of help you need with your boiler, you can rest assured that you will get the best services from our team. We take pride in the work that we do and all of our technicians are trained, experienced, and friendly. We are happy to answer any questions you have about your boiler, and we will keep you informed during each step of the service process.
As part of our commitment to excellence, we also stay up-to-date on all of the latest boiler technologies. This means, we can help you service any old boiler, or help you update to a newer model or more energy efficient brand.
Immediate Heating Services!
If you have a heating emergency, please feel free to call our heating emergency number at 781-670-3261. We know that heating emergencies don't wait for convenient hours, and that's why our office is open extended hours for you.
Common Concerns For Your Boiler to Call a Professional:
"I have no heat"
"My boiler is leaking"
"I haven't had a tune-up in a while"
"The heating system is really old"
Ask about our System Maintenance Plans
At 128 Plumbing, Heating, Cooling & Electric, we guarantee all of our work. You and your family deserve comfort, safety, and 100% satisfaction on every job. Rest assured we provide you with top quality work from the finest technicians in the area.
BECOME A MEMEBER
CALL 128 SKILLS
Here is a quick list of the top heating services we offer: