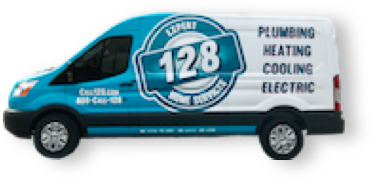 YOUR LOCAL 5-STAR COMPANY
How Can We Help?
Let Us Reach Out To You.
CALL 128 SKILLS
Here is a quick list of the top heating services we offer:
At 128 Plumbing, Heating, Cooling & Electric, we make the comfort of you and your family our top priority.
We don't want you to spend any time left in the cold, so we offer all heating services. If you are experiencing any problems with your heat, we will send an experienced technician out to diagnose the problem.
Our professional technicians specialize in repairing, servicing, maintaining, and installing every type of heating unit whether it's a high efficiency boiler, furnace, or hot water heater. We also help with more involved tasks like oil to gas conversions and heat pump installations and repairs.
As a heating and cooling company, we also feel it our duty to help you find ways to conserve energy. We welcome any questions about how to save on energy costs, and would be happy to consult with you on the benefits of energy efficient controlled technology and programmable thermostats.
Ask about our System Maintenance Plans
At 128 Plumbing, Heating, Cooling & Electric, we guarantee all of our work. You and your family deserve comfort, safety, and 100% satisfaction on every job. Rest assured we provide you with top quality work from the finest technicians in the area.
BECOME A MEMEBER
Our Goal Is To Deliver A 5-Star Experience
Review Us On
"We had a terrific experience with Kenny. I called and a day later, he was at my house providing an estimate on replacing a water heater that was on its last leg. He was professional, knowledgeable and friendly. He walked me through options and his recommendation and provided details on price, work that would be completed and duration. He was able to get us scheduled quickly to ensure we do not have any issues during the holidays. Thanks very much Kenny and 128 Plumbing!"

Scott Zalvan
"My kitchen fluorescent ballast finally bit the dust after 38 years, so I called 128 to see if they could replace it with an LED fixture instead. They said yes and set up an appointment. Dan and Chris arrived on time, took a look and said no problem. I also asked if they could replace the one over the sink as that was pretty old too and on its way out. They ran out to get the fixtures and had them installed in no time. Friendly, professional and efficient. Very happy with what they did. I won't hesitate to call 128 if I need work done again."

Coasterdude02149
"Wayne and his crew(associates) could not have been more professional and cordial in their dealings with my wife and me. Each of the people who came into our home introduced himself to us and proceeded to perform his job in an efficient manner, The en to attire team worked as a finely tuned group, and we couldn't be more pleased. After the installation, Wayne explained the workings of the system to a fault, as we are the least technical people with regards with systems such as this. My wife and I were totally pleased with our experience and would recommend 128 to anyone."

James McCarthy
"We had a great experience with Kenny. We called with some plumbing issues and 128 sent Kenny to our house. He was extremely knowledgeable and answered all our questions in a way we could easily understand. The quote he provided us was very fair, honest and within our budget. We are so happy we found 128 plumbing!"

Steve Sentementes
"After signing up with 128 Plumbing's long term service contract, I had a very difficult, intermittent problem with my gas furnace. In fact, the unit only worked while 128 Plumbing was here, and stopped working when they left. I thought I was going crazy, but they did not. They kept working the issue until they found a subtle installation problem (someone else had installed the unit incorrectly). Now the furnace works better than it ever has. I even needed to turn down the thermostat from where it had been for years. They really impressed me, which is hard to do."

DC Seward