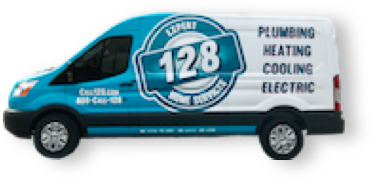 YOUR LOCAL 5-STAR COMPANY
How Can We Help?
Let Us Reach Out To You.
Call or text us for an appointment!
Are you experiencing problems with your water heater? If so, you've come to the right place. Here at 128 Plumbing, we specialize in installation, maintenance, and repairs of water heaters. We know how frustrating it can be to go without hot water even for a couple of hours, and that's why we make it a priority to get to your house as soon as you call us.
As part of our commitment to customer satisfaction, we offer reliable and quick water heater service when you need repairs or replacement most. Our technicians will go the extra mile to make sure you are not left in the cold.
Immediate plumbing services!
As we work to repair your water heater, we ask you for some basic information to ensure the repair process goes smoothly. Providing us with the information below will help us quickly locate the proper equipment to help get your water up and running ASAP.
We make fixing your water heater in a timely manner our number one priority, and we know you will be satisfied with our services. For more information, or to set up an appointment
What is the plumbing problem and where is it located?
What is your availability?
How can we make this service call convenient for you?
What is the model/serial # (if applicable)?
What you can expect from us:
Long-Term Solutions and Custom Options
100% Customer Satisfaction
Over 25 Years of Experience
Easy Communication through Phone, Email or Chat
Have Your Home Treated Like Our Own
Great Financing Options
Clean Uniforms, Booties, and Drop Cloths
Top-Quality Technicians: Licensed, Insured, and Skilled
Ask about our System Maintenance Plans
At 128 Plumbing, Heating, Cooling & Electric, we guarantee all of our work. You and your family deserve comfort, safety, and 100% satisfaction on every job. Rest assured we provide you with top quality work from the finest technicians in the area.
BECOME A MEMEBER
CALL 128 SKILLS
Here is a quick list of the top plumbing services we offer: