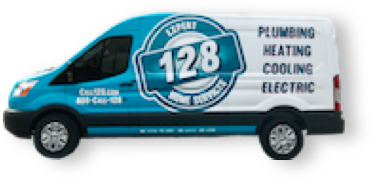 YOUR LOCAL 5-STAR COMPANY
How Can We Help?
Let Us Reach Out To You.
If you have a heating system that's had a breakdown or is running poorly, you already know something about the importance of heating system repair.
It's vital to get qualified experts who can fix every part of your heating system, whether it's your furnace or boiler, your hot water heater, your ventilation system, or even your air conditioning (yes, it's part of your heating system).
At 128, we're ideally equipped to solve any problems you might have. We have experts in all aspects of heating, cooling, and air conditioning, and we have the necessary equipment to fix any problem that occurs.
So let's cover some of the major possibilities. What follows is a quick rundown of the parts and pieces of your heating system, and we'll also cover some of the things that cause poor performance and breakdowns.
We'll give you plenty of information about repairs, too—we've been fixing heating systems for a long time, and we've worked on all the major brands. The pros at 128 are the best possible choice for your heating repair needs, and we have a great service reputation, too.
The Basics of Home Heating Repair
While many homeowners think heating repair is an emergency-only service, that's actually not the case at all. The truth is that you can save 5-15 percent of your annual heating and cooling costs if you schedule regular repairs.
How? Start by swapping out some basic parts. Replacing older filters and aging parts is a great way to boost the performance of your heating system, and it's also an excellent way to avoid costly breakdowns.
When you go with 128 for heating system repair, you'll be working with great HVAC techs who'll have years of experience working with heating systems just like yours.
They've had the training to diagnose any problems accurately, and they also have an army of electricians to cover any issues related to your electrical system.
The first thing they do is a thorough inspection of your heating system to identify any issues or problems, so let's take a closer look at how that works.
Inspection and Diagnosis
Usually, the heating repair process starts with the thermostat. If your system is slow to produce the desired temperature, that's often an indication that there's a problem that needs to be addressed.
Our techs will also measure the temperature of the air coming from the vents, and they'll do a comprehensive breakdown of the airflow in your system. If it's too weak or the air isn't warm enough, they'll replace the air filters, then vacuum both the heater and the vents in your system to remove debris.
The problem may also be electrical in nature, and this kind of issue in particular is why 128 Plumbing, Heating, Cooling & Electric is such a great choice.
We have expert electricians who frequently work with our HVAC techs, so if your heating system issue is rooted in your electrical system, we'll have one of our electricians analyze that part of your system to pinpoint any problems.
What's in Your Heating System
Now let's talk about the specific parts of your heating system. Typically, the rundown includes the furnace, the heat exchanger and blower, the cold air return/intake, and the exhaust.
If any of these elements of the system aren't performing well, your ability to heat your home may be compromised, so we'll fix or replace the parts that aren't performing well.
The most common repairs usually involve the furnace. Think of the furnace as the control center of your heating system—it regulates the entire system, so the airflow, temperatures, and measurements associated with those have to work as outlined in the specs.
We know those specs inside out, and we'll make the necessary adjustments to get your furnace running at peak efficiency to save you money as the temperatures drop.
We'll do the same if your system is based on a boiler rather than a furnace—we've worked on plenty of hydronic systems, so we know those specs, too.
Our HVAC techs also see a lot of issues with heat pumps. Heat pumps are also a critical part of your system, and they do a lot of constant hard work, which means they should always be checked and repaired periodically.
If your heat pump needs to be replaced, we'll tell you that, too. Our techs will always give you a thorough analysis of the problem that includes an estimate, so you'll always be in the loop about whatever we're going to do to fix your system.
We'll typically replace the air filters as well. This will help make it easier for your heat pump to do its job, and it will increase the overall efficiency of your heating system.
Heat Pump Maintenance and Repair
So how do you know if you need heating repair? A breakdown is the most obvious sign, but there are others. If the usual humming sound of your system suddenly changes and it starts making unfamiliar noises, it's time to call 128.
Strange smells are another obvious warning sign that may also indicate an electrical problem within your heating system. If that's the case we'll send out an electrician as part of our HVAC team, so whatever the problem is, we'll be able to fix it.
The 128 Heating Repair and Maintenance Package
Our heating repair coverage is a great value, especially if you sign up for a maintenance and repair program. This can save you thousands of dollars over time, and you'll always get great performance and be ahead of the curve when it comes to possible breakdowns.
But you do have to contact us to get started, so take the next step and call us at (888) 419-4233, or you can use (781) 670-3261. We'll answer your questions and schedule you for service.
You can also go to 128Plumbing.com and start a live chat, and we have some great blogs and articles there to help educate you about your heating system, how it works, and what you need to do to keep it running at peak efficiency.
Ask about our System Maintenance Plans
At 128 Plumbing, Heating, Cooling & Electric, we guarantee all of our work. You and your family deserve comfort, safety, and 100% satisfaction on every job. Rest assured we provide you with top quality work from the finest technicians in the area.
BECOME A MEMEBER
CALL 128 SKILLS
Here is a quick list of the top heating services we offer: