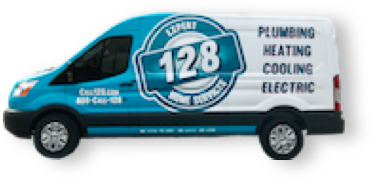 YOUR LOCAL 5-STAR COMPANY
How Can We Help?
Let Us Reach Out To You.
If you want to save money and get the most out of your heating system, maintenance is mandatory.
It's essential for optimal performance, and it will make you nearly bulletproof when it comes to possible future breakdowns.
Fortunately, most of the heating maintenance procedures you need to do are simple, and at 128 we have lots of HVAC expertise when it comes to preventive maintenance.
We have great technicians who are qualified professionals, and they can explain how preventive maintenance works and the procedures you'll need to perform. We can service your heating system as needed, too, so you'll be covered on all fronts.
It helps to know the particulars, though, so let's walk you through your heating system and explain the typical maintenance procedures that are necessary. When we're done, you'll understand why 128 is the best possible choice to handle all your heating system maintenance and repair needs.
HVAC Maintenance Tasks Start With Your Furnace
The first step in any maintenance process is to check your thermostat. It will tell you if everything's working correctly and give you some clues as to what might be going wrong if there are problems.
If there is a problem with your thermostat, the solution could be as simple as tightening an electrical connection and verifying that the system controls are working properly.
If the problem does turn out to be more complicated, it's time to call 128 and let us tackle the problem for you.
Filter Maintenance
Next, let's talk about filters. They may not sound important, but if they're dirty or they haven't been changed in a while, they can cost you a lot of money. In fact, they can even shut down your entire system if they're old or grimy enough.
Generally speaking, they should be changed once a year, but the service manuals for your furnace or boiler may tell you that you need to do that more frequently for your heating system.
Heat Pump: The Key to Your Furnace
The heat pump is the main element of your heating system—think of it as a beating heart that keeps you warm and comfortable in any kind of weather.
Heat pumps do require regular cleaning, though, and if you miss this step you may notice that you have trouble pushing enough heat into your home to get the thermostat up to the desired temperature.
Vent Cleaning
Vent cleaning is important, too. Pet hair, dirt, and debris can accumulate in your vents and ducts over time, so it's important to have them cleaned professionally.
We know the ins and outs of every kind of heating system on the market, which means we'll be able to clean your vents quickly and efficiently. We'll also retest your system after we do this, and we guarantee any and all work we perform on your home.
HVAC Tune-Up Service
All of these procedures are usually part of a heating system tune-up, which typically starts with an inspection. These are normally done once a year, starting with the furnace.
That also means examining the vent system and the intake grills, which could be blocked by dirt or debris. In the furnace itself, we'll check for any signs of damage or corrosion, and we'll make sure the blower is free of debris as well.
Within the furnace, we'll check both the burner and the flame sensor, as well as the belts in the furnace. They should be checked for signs of excess wear and tear, too. There are many moving parts in your heating system that require lubrication, so we'll make sure that gets done properly.
Once all of these procedures have been performed, we'll verify that all the safety controls are operational. Most furnaces have a standard startup cycle that needs to be verified, so we'll also do this as part of our visit.
Heating Maintenance and Tune-Up Benefits
There are many benefits to tune-ups and ongoing maintenance that many people don't know about. Saving money is one of the biggest benefits, you may also need to do these checks to maintain the validity of your warranty.
This will give you the coverage you need if anything breaks or goes wrong. The technicians at 128 have experience dealing with nearly every type of warranty.
Another benefit to heating maintenance is reducing the risk of breakdowns during the cold weather season. These can result in unexpected ancillary problems like frozen pipes. Call us before the temperature drops and we will help you get ahead of any problems.
These kinds of calls can help you extend the life of your furnace, which can ultimately keep a lot of money in your pocket over the long haul.
A well-maintained furnace can last for over a decade, and every year you're able to extend its life and keep it running efficiently will save you the major expense of having to purchase a new one.
One of the best reasons to use 128 for your heating system maintenance is that we can help save money via our special maintenance plans.
The value that comes with choosing one of these is hard to beat—our HVAC experts are among the best in the business, and we'll even add in occasional promotions to help you save even more.
Become a 128 Heating Maintenance Customer
To take advantage of all this, you need to take the next step and contact us. We'll set you up for a maintenance visit and analyze your heating system, then make our recommendations.
Call 128 today at (888) 419-4233 or (781) 670-3261. We'll answer your questions and schedule you for service as soon as possible so you can start to experience our great service and savings.
You can also go to 128Plumbing.com and start a live chat, and we have some great blogs and articles there to help educate you about your heating system, how it works, and what you need to do to keep it running at peak efficiency.
Ask about our System Maintenance Plans
At 128 Plumbing, Heating, Cooling & Electric, we guarantee all of our work. You and your family deserve comfort, safety, and 100% satisfaction on every job. Rest assured we provide you with top quality work from the finest technicians in the area.
BECOME A MEMEBER
CALL 128 SKILLS
Here is a quick list of the top heating services we offer: