Local Experts
Family-Owned

Drain Services
Stay Clog Free.
OUR PLUMBING PROMISE
At 128 Plumbing, Heating, Cooling & Electric, we guarantee all of our work. You and your family deserve comfort, safety, and 100% satisfaction on every job. Rest assured we provide you with top quality work from the finest technicians in the area.
GET THE PREMIUM PLAN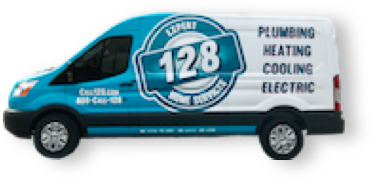 Clogged drains are one of the most common problems we see here at 128 Plumbing, Heating, Cooling & Electric. While there are many ways to temporarily unclog a drain, what many people don't realize is the problem often lies deeper. When you have a drain clog, it can indicate an obstruction in the pipes that needs to be cleared by a professional drain company.
Many people think that pouring a chemical down the pipes will do the trick. Store bought drain cleaning chemicals can actually cause long-term damage to your pipes, and could end up becoming a plumbing nightmare.
Ask about our $89 Evaluation today.
When you have a clogged drain, slow drain, or back-up, simply call 128 Plumbing to have an experienced, friendly, helpful technician come check out the issue for you.
Services we provide & Common Issues:
Tub clogs
Leaky pipes
Sink clogs
Pipe locator
Main sewer line
Drain cleaning
Drain repair
Old piping
Water jetting
Tree roots
And more
At 128 Plumbing, Heating, Cooling & Electric, we're ready to take your call 24/7. We don't want you to be left with a clog, leaky pipe, slow kitchen drain, sewer backup, or any other needed repair, so we will come help you as soon as we get the call.