Local Experts
Family-Owned

Service & Repair
Got a clog? Need maintenance or drain repair? Call 128 Plumbing today!
Did you know that drains require regular maintenance and service in order to continue working properly? It's easy to buy a house and forget about the tiny maintenance details, until you run into a problem and need an urgent repair. In order to avoid a big plumbing problem, simply schedule your regular drain maintenance with 128 Plumbing, Heating, Cooling & Electric today.
When you call us for drain service, will send out a technician to do an on point check of all of your drains and pipes. We will also schedule follow-up maintenance visits, so you don't have to worry about remembering when you need to call the plumber next time for drain maintenance.
In addition to drain maintenance services, our skilled technicians also provide help with any drain cleaning service or drain pipe repairs. If you are experiencing a clog, we will ask a few questions that will help us diagnose the problem before we even get there.
OUR PLUMBING PROMISE
At 128 Plumbing, Heating, Cooling & Electric, we guarantee all of our work. You and your family deserve comfort, safety, and 100% satisfaction on every job. Rest assured we provide you with top quality work from the finest technicians in the area.
GET THE PREMIUM PLAN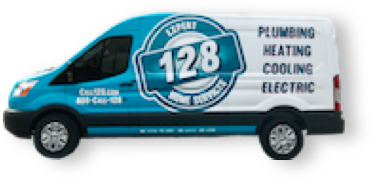 What We Will Want to Know
Where is the clog?
Is anything flooding?
Do you know what caused the clog?
Is the clog emitting any strong odors?
What You Can Expect From Us
Long-Term Solutions and Custom Options
100% Customer Satisfaction
Over 25 Years of Experience
Easy Ccommunication through Phone, Email or Chat
Have Your Home Treated Like Our Own
Great Financing Options
Clean Uniforms, Booties, and Drop Cloths
Top-Quality Technicians: Licensed, Insured, and Skilled