Local Experts
Family-Owned

Video Camera Inspection
Continued blockage? Intrusive roots? Call us today!
The cause of plumbing problems often lie deep within your sewer system. Sometimes trees roots will block your pipes, pipes will crack, or sewage system materials can deteriorate. In order to effectively diagnose the problem you are experiencing, our trained technicians offer video camera inspection services to take away the guesswork and determine on the spot if you need a simple drain cleaning; or if the problem is extensive enough that drain repairs are needed.
With video camera inspection services, there is no guessing at the problem. Instead, the plumber will insert a camera down your drain and will be able to see exactly what needs to be fixed.
OUR ELECTRICAL AGREEMENT
At 128 Plumbing, Heating, Cooling & Electric we guarantee all of our work. You and your family deserve comfort, safety, and 100% satisfaction on every job. Rest assured we provide you with top quality work from the finest electricians in the area.
GET THE PREMIUM PLAN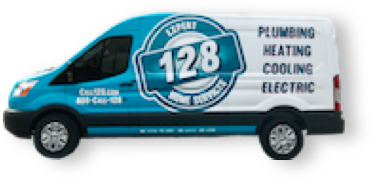 What a Video Camera Inspection Can Help Determine
Whether drain service is needed or repair
Cracked sewer lateral
Bellied drain line
Separated joints
Leaking pipe joints
Debris blockage
Root intrusion
Deteriorating pipe materials
What You Can Expect from Us
100% customer satisfaction guaranteed
Phones answered by our own staff 24/7
We will treat your home like our own
Clean uniforms, booties, and drop cloths
Trained, licensed, insured, and skilled technicians
Contact Us
To schedule an appointment for video camera inspection, give us a call at 1-888-225-5128 today.