Local Experts
Family-Owned

OUR KEEP IT COZY AGREEMENT
At 128 Plumbing, Heating, Cooling & Electric, we guarantee all of our work. You and your family deserve comfort, safety, and 100% satisfaction on every job. Rest assured we provide you with top quality work from the finest technicians in the area.
GET THE PREMIUM PLAN
Heat one room… OR the whole house!
If you have that one bedroom, kitchen, new addition, floor or zone in your home that's drafty, you FINALLY have a long term solution for supplemental heat.
At 128 Plumbing, Heating, Cooling & Electric, we specialize in installing ductless mini-splits for heating and cooling all year round.
The top reasons to go ductless for supplemental heating in your home:
Choose and customize which rooms you want heated
Ability to have different rooms at different temperatures
No ductwork required!
Cut down on oil deliveries
Use less energy every month
Filter the air you're breathing in everyday
Less dust and bacteria
Never use a portable space heater again
Get rid of window A/C units in the summer for good!
Qualify for rebates and financing due to high-efficiency – up to 97%!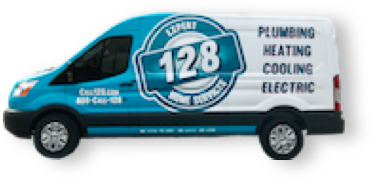 What We Will Want to Know
What heating system do you currently have?
What is the approximate square footage of your home?
How many rooms will you want heated?
Are you interested in a programmable thermostat?
When do you have time for an appointment?
What You Can Expect From Us
Long-Term Solutions and Custom Options
Quality Installation – A Diamond Elite Contractor with Mitsubishi Electric!!
Over 25 Years of Trade Experience
Easy Communication through Phone, Email or Chat
Have Your Home Treated Like Our Own
Great Financing Options
Clean Uniforms, Booties, and Drop Cloths
A Team Dedicated to Help with your Rebates and Financing
Immediate Heating Services!
If you have a heating emergency, please feel free to call our heating emergency number at 781-670-3261. We know that heating emergencies don't wait for convenient hours, and that's why our office is open extended hours for you.