Local Experts
Family-Owned

On-Demand Tankless Water Heaters
If you have a water tank that's getting old or starting to have problems, consider switching to an on demand tankless water heater.
Reasons to go tankless for your hot water and heat:
Qualifies for the Mass Save Program
Gain more space in your basement
Up to 97% efficient
Endless hot water because there's no more water tank!
OUR PLUMBING PROMISE
At 128 Plumbing, Heating, Cooling & Electric, we guarantee all of our work. You and your family deserve comfort, safety, and 100% satisfaction on every job. Rest assured we provide you with top quality work from the finest technicians in the area.
GET THE PREMIUM PLAN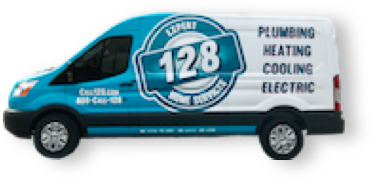 No hot water? Try An On Demand Tankless Water Heater.
Tankless systems don't have a traditional water tank so the water heats up only when you turn on the faucet. This means that after the 5th family member takes a shower…. it's STILL hot.
Need a Repair to your On Demand Tankless Water Heater?
Not only do we specialize in sales and installation of on demand tankless water heaters, but we can also provide you with tips for maintenance and quality repair services from our trained technicians.
What We Will Want to Know
Is your water heater gas or electric?
What size is your water heater?
How old is the hot water heater?
What is the best time for us to come and service your tankless water heater?
Is there anything else we can do to help you?
What You Can Expect From Us
Long-Term Solutions and Custom Options
Easy Communication by Phone, Email or Chat
A Team You Can Count On
Over 25 Years of Plumbing Experience
Extended Office Hours: M-F 7AM-7PM
Have Your Home Treated Like Our Own
Great Financing Options
Clean Uniforms, Booties, and Drop Cloths
Top-Quality Technicians: Licensed, Insured, and Skilled