Local Experts
Family-Owned

Plumbing Service Premium Plan
OUR PLUMBING PROMISE AGREEMENT
With the Plumbing Yearly Service PremiumPlan, we ensure safety, comfort, and 100% satisfaction. If you have any issues with your plumbing, you will receive the benefits listed below with the Plumbing Yearly Service Premium Plan.
Free tune-ups
15% discount on repairs
Discounted emergency services
Peace of mind
15% off diagnostics
Priority scheduling
1, 3 & 5 year warranties
Longer equipment life
Improved safety
Fewer repairs
And more
When we come to do a plumbing inspection, you can expect the following services.
OUR PLUMBING PROMISE
At 128 Plumbing, Heating, Cooling & Electric, we guarantee all of our work. You and your family deserve comfort, safety, and 100% satisfaction on every job. Rest assured we provide you with top quality work from the finest technicians in the area.
GET THE PREMIUM PLAN
Evaluate entire plumbing system
Check all faucet aerators
Flush hot water heater
Test all drains
Check all shut offs
For more information about what is included in our Plumbing Premium Plan, please contact us today.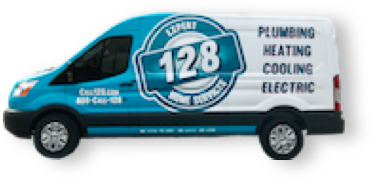 Select a service you would like to learn more about: