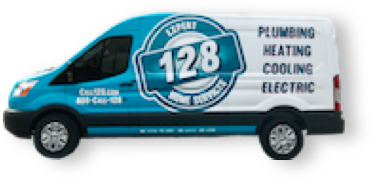 YOUR 5-STAR LOCAL COMPANY
How Can We Help?
Let Us Reach Out To You.
128 Plumbing, Heating, Cooling & Electric is a proud heat pump installer in the Mass Save Network.
With energy costs going up and prices rising at an alarming rate, we understand that our customers are looking to save money when they come to us with help for their homes and the services we offer. At 128, we definitely get it.
In 2023, Massachusetts has heating and cooling rebates that are higher than ever.
New, high-efficiency equipment is a great investment for the environment and your home and it's a relief when you find any type of rebate or incentive. We process all of our rebates for our customers. Take advantage of these great incentives for your home this season!
We're proud to be a heat pump installer working as part of the Mass Save Network, and we can use our affiliation with that program to help save you money. We know the savings that are available, so let's go through some of the rebates and incentives and explain how they relate to our services.
AC and Heating System Rebates
First, let's talk about heat pumps. We've been installing, maintaining, and fixing them for years, and we know what kinds of rebates and savings are available for every kind of heat pump on the market.
Let's say you're thinking about installing an air source heat pump
.
If you do, you may not know that you can get up to $10,000 in whole-home rebates for these kinds of pumps, which makes it a win-win decision across the board.
If your heating and AC needs are such that you're planning on keeping your existing boiler or furnace to supplement a new heat pump system, you can also get partial rebates.
To get in on these possibilities, the first step is to call MassSave. You'll need to have your home weatherized for the project, as that's a prerequisite to be eligible for any rebates.
We can help you there, too. At 128, we have highly qualified teams that can help analyze the energy efficiency of all your home systems, and once you're qualified we'll install your new heat pump so that it can function as a standalone unit or work as an integrated part of your existing heating and cooling system.
Air to Water Heat Pumps
Another kind of heat pump we can install for you as part of the Mass Save rebate program is an air-to-water heat pump.
These kinds of pumps are designed to provide efficient heating through what's called hydronic distribution, which means that heat is distributed across your existing baseboards, hydronic radiators, or radiant floors.
Rebates for these kinds of programs are administered according to income eligibility. They're designated as Enhanced Residential rebates, so be sure to review the Mass Save requirements carefully if you're interested in purchasing this kind of heat pump.
We also have extensive experience working with hydronic heat pumps, and we can help with the energy efficiency part, along with any retrofits or swaps you'll need to use your air-to-water heat pumps.
In addition, we can get you on a service or maintenance plan, which will make sure your heat pump is always working at peak efficiency. And you can actually get an interest-free loan from Mass Save to finance the entire purchase if necessary.
Furnace and Boiler Installation
Now let's talk about furnaces and boilers. Natural gas prices are rising, so if you're in need of an upgrade or a complete replacement, you need to put energy efficiency at the top of your home to-do list. Fortunately, there are rebates available when it comes to furnaces, boilers and natural gas, too. You can get up to $1,000 back in rebates if you install a high-efficiency furnace, and that amount goes up tot $2,000 if you put in a new energy-efficient boiler.
Once again, at 128 we're experts at performing this kind of installation. We've done it in thousands of homes throughout Massachusetts, so we've seen every possible issue that can come up.
You can also get the same kind of interest-free loan from Mass Save to finance this purchase, and the money will be well worth it. There are provisions in these programs that state that new systems must be replacing an existing residential system, be it electrical, natural gas, or oil water heating, so make sure you review these carefully.
We can help you with any issues that come up during replacement to help you stay within the guidelines and rules for these programs, which will help you save the maximum amount.
The end result of all of this is that you'll actually like what you see when you get your heating bill. You'll be saving money while your house stays warm and toasty, especially if you follow up by signing on for an ongoing maintenance and service plan with us.
Oil and Propane Installations
Now let's talk about oil and propane. The last six months or so have given us a dramatic lesson in what can happen to oil prices when a distant event like the war in Ukraine destroys the balance of the world oil market and sends prices spiraling.
As for the possible rebates, the amounts involved are significant. You can get up to $500 for propane- or oil-based indirect heating installations, and up to $2,000 if you need to install a propane boiler.
On the furnace side, installing a propane furnace will set you up for up to $500 in rebates, and if you decide to install an oil furnace the rebates can be up to $500.
You can even get a $100 rebate or discount for a smart programmable thermostat, which will help you implement energy-efficient zonal heating.
We're experts at all of these installations. We've worked with both propane and oil, and we know the differences involved in boilers and furnaces when it comes to what to buy and how to set up these systems.
You'll love the energy efficiency, and we'll make the installation smooth and seamless so that your busy schedule won't be interrupted. It's a great way to upgrade your home and your lifestyle, and our HVAC techs and plumbers will do everything they can to maximize your savings.
You can top off the benefits you'll get by getting on one of our maintenance and service plans. Those will keep your furnace or boiler in top running condition, and the interest-free loans you can get to finance the purchase will help save you even more money.
Take the Next Step for Savings
As you can see from the information provided here, there are thousands of dollars in savings just waiting to be yours if you take the next step and call us.
Our numbers are toll free at (888) 419-4233, or you can use (781) 670-3261. We'll answer your questions, run you through all the different rebate scenarios, then schedule you for an evaluation and a subsequent installation.
You can also go to 128Plumbing.com and start a live chat, and we have some great blogs and articles there to help educate you about your heating and AC system, not to mention how to get in on all the great rebates being offered by Mass Save.
Disclaimer: All rebates are part of the Mass Save program, as such Mass Save is legally responsible for final approval and all fulfillment.
Ask about our System Maintenance Plans
At 128 Plumbing, Heating, Cooling & Electric, we guarantee all of our work. You and your family deserve comfort, safety, and 100% satisfaction on every job. Rest assured we provide you with top quality work from the finest technicians in the area.
BECOME A MEMEBER