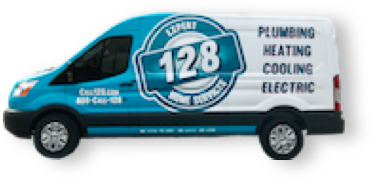 YOUR LOCAL 5-STAR COMPANY
How Can We Help?
Let Us Reach Out To You.
Is it time to replace your A/C or cooling system?
Is your cooling / air conditioning system not blowing cold air? Have you noticed any leaks? Do you constantly need to add coolant to your cooling unit in order to get it to work properly? If any of these problems sound familiar, then it's time to replace your A/C or cooling system.
The technicians here at 128 Plumbing, Heating, Cooling & Electric are trained and skilled at installing any air conditioning / cooling systems. We know you will be pleased with the workmanship our technicians offer, especially since they treat every customer with care.
In order to help you find the best air conditioning / cooling system for your home, we will ask you a few questions before we even enter your home. This will help us set you up with the right system for you and your family.
For help with replacing and installing your new cooling or A/C system, contact us today. We look forward to speaking with you.
Ask about our System Maintenance Plans
At 128 Plumbing, Heating, Cooling & Electric, we guarantee all of our work. You and your family deserve comfort, safety, and 100% satisfaction on every job. Rest assured we provide you with top quality work from the finest technicians in the area.
BECOME A MEMEBER
How old is your current system?
How many units are in your home?
Were you happy with the previous brand?
When was the last time you had your system serviced?
What is the model/serial number of the current unit?
What you can expect from us:
24 hour emergency services
100% customer satisfaction guaranteed
Phones answered by our own staff 24/7
We treat your home with care
Clean uniforms, booties, and drop cloths
CALL 128 SKILLS
Here is a quick list of the top cooling services we offer: