Local Experts
Family-Owned

At 128 Plumbing, Heating, & Cooling, we are dedicated to the safety of you, your home, and your family. When you are looking for knob and tube replacement, you need help from a licensed and skilled electrician. Sometimes wiring can be as old as 100 years, and our technicians are trained to safely update all your knob and tube wiring.
In order to keep your electrical system current, we offer the following services:
Cover exposed wiring
Repair of damage caused by animals, rodents, or weathering
Remediation and rewiring
Insulation repair
Knob and tube replacement
Don't wait until you are experiencing a severe electrical problem to call us. If you don't know how long it's been since your knob and tube wiring has been inspected or serviced, call us today for a consultation. Our expert technicians would be happy to offer you a consultation on services, and will answer any questions you may have.
OUR ELECTRICAL AGREEMENT
At 128 Plumbing, Heating, Cooling & Electric we guarantee all of our work. You and your family deserve comfort, safety, and 100% satisfaction on every job. Rest assured we provide you with top quality work from the finest electricians in the area.
GET THE PREMIUM PLAN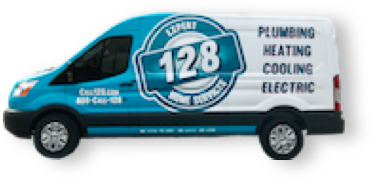 What We Will Want to Know
What electrical problems have you been experiencing?
How old is your wiring?
What type of service do you need (repair, replacement, etc.)
When is a good time for an appointment?
How else can we help you?
What You Should Expect From Us
24 hour emergency services
100% customer satisfaction guaranteed
Phones answered by our own staff 24/7
We treat your home with care
Clean uniforms, booties, and drop cloths
Contact Us
For more information about the process of selecting and installing ceiling fans, please feel free to contact us at 1-888-225-5128.