Local Experts
Family-Owned

OUR KEEP IT COZY AGREEMENT
At 128 Plumbing, Heating, Cooling & Electric, we guarantee all of our work. You and your family deserve comfort, safety, and 100% satisfaction on every job. Rest assured we provide you with top quality work from the finest technicians in the area.
GET THE PREMIUM PLAN
For professional help with service, repair, or installation of a furnace, come to 128 Plumbing, Heating, Cooling & Electric. At 128 Plumbing, Heating, Cooling & Electric, we have spent years learning the ins and outs of furnace repair and installation, and we are confident we can help you with any furnace issue you may have.
We also understand that when a furnace breaks, it means the difference in you and your family being comfortable and warm or cold and uncomfortable. We have a strict policy against our customers feeling any type of discomfort, so as soon as we get a call from you, we will send a technician over to fix the problem.
You will also be happy to know that in order to provide fast and productive service, we make sure all of our technicians are highly trained. The heating industry is often updating with new technologies. With every update, we provide thorough training to our technicians. This makes our technicians ready to tackle any installation or service problem equipped with the knowledge to get the job done right.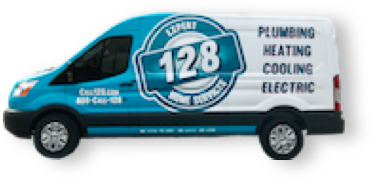 Immediate Heating Services!
For more information about furnace installation or repair, contact us today. We would be happy to help answer any questions or set you up with a free consultation.