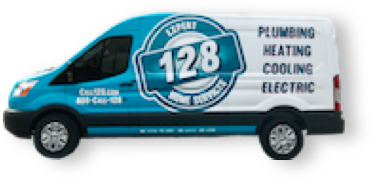 YOUR LOCAL 5-STAR COMPANY
How Can We Help?
Let Us Reach Out To You.
Here at 128 Plumbing Heating & Cooling, we know how rainy it can get in Massachusetts, and a sump pump can help prevent flooding.
Sump pumps work by stopping water that has built up in the soil around your home.
When water reaches a certain level in the sump, the pump will activate automatically and divert water into a pipe away from your home.
If you already have a sump pump, and you suspect it isn't working properly, call 128 Plumbing today. We can send a plumber out to your house immediately in order to prevent your basement from flooding.
If you want a sump pump installed or repaired give us a call, or request an appointment below. We are happy to help you with any sump pump questions or needs you may have.
Does the pump start when the float rises?
Is the pump making loud noises?
Will your pump not shut off?
Is your pump running but not extracting any water?
What you can expect from us:
24 hour emergency services
100% customer satisfaction guaranteed
Phones answered by our own staff 24/7
We treat your home with care
Clean uniforms, booties, and drop cloths
Ask about our System Maintenance Plans
At 128 Plumbing, Heating, Cooling & Electric, we guarantee all of our work. You and your family deserve comfort, safety, and 100% satisfaction on every job. Rest assured we provide you with top quality work from the finest technicians in the area.
BECOME A MEMEBER
CALL 128 SKILLS
Here is a quick list of the top plumbing services we offer: