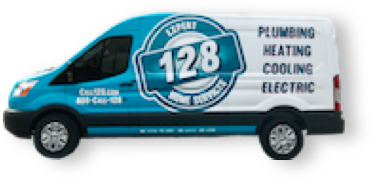 YOUR LOCAL 5-STAR COMPANY
How Can We Help?
Let Us Reach Out To You.
Need Plumbing Service? Call or Request Your Appointment Now
At 128 Plumbing, Heating, Cooling & Electric, our goal is to provide a high-level, quality service experience to get you the long-term solution you need.
Our highly-trained technicians are available to attend to any plumbing problem from no hot water and leaking pipes to water heater installations and repairs. With customer satisfaction as our top priority, you will have the peace of mind from the moment you contact us that your job will get done right.
If you need plumbing services or repairs, don't wait to call. Our highly trained technicians are available to diagnose, maintain and attend to your plumbing problems and repairs. We're proud to be trained directly by manufacturers, selected into National Grid's VPI Installer program, a Mitsubishi Diamond Elite Contractor, and rated A+ on BBB year After year. We look forward to speaking with you.
What is the plumbing problem and where is it located?
What is your availability?
How can we make this service call convenient for you?
What is the model/serial # (if applicable)?
What you can expect from us:
24 hour emergency services
100% customer satisfaction guaranteed
Phones answered by our own staff 24/7
We treat your home with care
Clean uniforms, booties, and drop cloths
Ask about our System Maintenance Plans
At 128 Plumbing, Heating, Cooling & Electric, we guarantee all of our work. You and your family deserve comfort, safety, and 100% satisfaction on every job. Rest assured we provide you with top quality work from the finest technicians in the area.
BECOME A MEMEBER
CALL 128 SKILLS
Here is a quick list of the top plumbing services we offer: